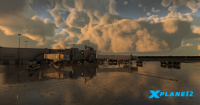 Vertical Simulations has recently announced the release of a free update for KSYR (Syracuse Hancock International Airport) in X-Plane 12. Existing owners of the X-Plane 11 version can access the updated version through their account page on the Vertical Simulations website (https://verticalsims.com/). Additionally, customers who purchased the original scenery from SimMarket and the Xplane.org store will also have access to the update.
In the announcement, Vertical Simulations highlighted several improvements and changes listed in the changelog for the new update. These include replacing custom trees with X-Plane 12 default 3D placeholder trees, adjusting light parameters to address XP12 lighting issues, exporting the scenery with WED V2.5 to ensure compatibility with XP12, correcting the airline assignment from AYA to AAY for Allegiant, removing 2D grass, adding weather and ice-snow effects, and including airline names on gates.
By providing this free update, Vertical Simulations demonstrates their commitment to enhancing the quality and realism of KSYR in X-Plane 12. Existing customers can take advantage of these improvements, which contribute to a more immersive and accurate simulation experience at Syracuse Hancock International Airport.

---