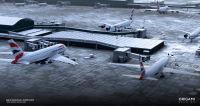 Origami Studios has recently announced their upcoming rendition of London Heathrow (EGLL) for X-Plane 12, which is known as the home of British Airways and Virgin Atlantic. As the seventh busiest airport in the world, it handles approximately 80 million passengers annually and offers a comprehensive route network that connects to destinations worldwide.
The product page highlights several features that can be expected in the scenery. These include an accurate representation of the airport with custom buildings, a detailed interior model of Terminal 5, animated jetways, notable landmarks and points of interest, and utilization of modern X-Plane 12 features like dynamic snow and rain effects, reflections, and 3D forests.
While the release date and pricing details are currently unavailable, the scenery is expected to be available soon on the iniBuilds store. As more information becomes available, it is advised to stay updated through official channels for the latest news on the release.