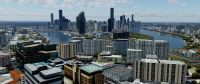 ORBX, a renowned flight simulation software developer, has unveiled their latest release, "Landmarks Brisbane," designed specifically for X-Plane 12. This remarkable add-on package offers virtual pilots an opportunity to explore the vibrant Australian city of Brisbane with unprecedented realism and attention to detail.
"Landmarks Brisbane" showcases over 100 of the city's most iconic buildings and landmarks in exquisite detail. From the majestic Story Bridge to the enchanting Wheel of Brisbane and the captivating Queensland Cultural Centre, each structure has been meticulously recreated to capture its unique essence. The use of high-resolution textures, custom-designed autogen, and meticulously crafted night lighting further enhances the immersive experience, bringing the city to life like never before.
Employing cutting-edge 3D modeling and texturing techniques, ORBX has ensured that Brisbane is portrayed with utmost accuracy and authenticity. Every architectural detail and characteristic of the city has been captured, allowing virtual pilots to navigate the cityscape with a remarkable sense of realism. The inclusion of custom-designed Heliports adds an extra layer of versatility and excitement to the experience.
"Landmarks Brisbane" is now available for purchase on ORBX's official website, catering to X-Plane 12 enthusiasts. By immersing themselves in this meticulously crafted virtual rendition of Brisbane, flight simulators can explore the city's iconic landmarks and revel in the beauty of this Australian metropolis.

---