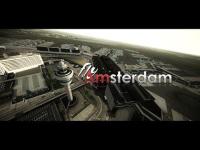 FlyTampa has released their highly anticipated rendition of Amsterdam Airport Schiphol for X-Plane 11 and X-Plane 12. Schiphol is renowned as the world's third busiest airport in terms of international passenger traffic, with an impressive annual volume of 70 million passengers (as of 2021), making it the third busiest airport in Europe as well.
As a major hub, Schiphol serves a variety of prominent airlines including Corendon Dutch Airlines, KLM, KLM Cargo, KLM Cityhopper, Transavia, TUI fly Netherlands, and Martinair. Additionally, it serves as a base for easyJet. With its extensive network, the airport provides connectivity to destinations around the world.
FlyTampa's rendition of Amsterdam Airport Schiphol features an accurate and highly detailed representation of the airport. The scenery includes PBR (Physically Based Rendering) materials, high-resolution ground textures with custom weather maps, meticulously crafted surrounding scenery with numerous custom buildings, tridimensional terrain that accurately incorporates tunnels and bridges, surrounding photoscenery, animated apron and local road traffic, dynamic lighting for enhanced realism, animated jetways, and VDGS (Visual Docking Guidance System), which requires the SAM (Scenery Animation Manager) plugin.
To acquire the scenery, you can visit FlyTampa's website, where it is available for purchase at a price of $28.00. The installation requires a minimum of 3.78 GB of free disk space.

---