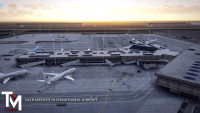 Taimodels has recently launched their latest creation: Sacramento International Airport (KSMF) for X-Plane 11 and 12.
Sacramento International Airport, ranked as the sixth busiest airport in California, sees an average of 11 million passengers annually as of November 2022. With Southwest Airlines holding the majority market share, followed by American Airlines and Delta, KSMF provides a range of flight options for travelers. Popular domestic destinations from KSMF include San Diego, Las Vegas, and Denver, while international flights connect passengers to Vancouver, Guadalajara, León, and Mexico City.
The Taimodels scenery for KSMF showcases meticulous attention to detail, allowing virtual pilots to immerse themselves in the airport environment. Key features include SAM jetways for seamless aircraft connections, high-quality Physically Based Rendering (PBR) textures for realistic object and ground appearances, and optimized performance for a smooth experience. The scenery also incorporates autogen elements around the airport and a ground traffic plugin with cars and trucks, adding to the overall realism. X-Plane 12 users will appreciate the inclusion of weather textures, enhancing the visual fidelity of their virtual flights.
The Taimodels rendition of Sacramento International Airport is available for purchase on SimMarket at an affordable price point of approximately $21. This add-on offers aviation enthusiasts the opportunity to explore and enjoy the authentic atmosphere of KSMF within the X-Plane simulator environment.