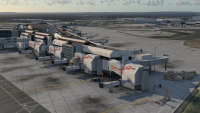 TaiModels has released their highly anticipated rendition of Heathrow Airport (EGLL) for both X-Plane 11 and X-Plane 12. As the largest airport in London and the eighth-busiest in Europe in terms of total passenger traffic, Heathrow welcomes an impressive average of 80 million passengers each year.
The airport serves as a major hub for British Airways and Virgin Atlantic, with a comprehensive route network that encompasses both domestic and international destinations, offering connectivity to various parts of the world.
TaiModels' rendition of Heathrow Airport showcases meticulous attention to detail, featuring high-quality models and textures with PBR (Physically Based Rendering) materials. The scenery includes interior details for Terminal 5 (T5) and Terminal 2 (T2), ensuring a realistic and immersive experience. Additionally, the scenery incorporates performance optimizations to maintain smooth performance, SAM (Scenery Animation Manager) animated jetways for seamless aircraft boarding, compatibility with Ortho4Xp's flat options, autogen surrounding the airport for enhanced realism, a ground traffic plugin to simulate airport vehicle movement, and weather textures specifically designed for X-Plane 12.
If you are interested in acquiring the TaiModels Heathrow Airport scenery, it is available for purchase at a price of approximately $28.00.