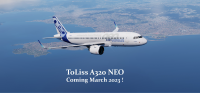 ToLiss, the renowned developer of Airbus aircraft for X-Plane, has recently announced their next project, the A320 NEO. This upcoming addition to their impressive lineup, which already includes the A319, A321, and A340, has generated excitement within the flight simulation community.
While limited information has been released thus far, ToLiss provided a teaser picture showcasing the completed exterior modeling of the aircraft, including the distinctive new engines that set the NEO apart from other A320 variants.
The details surrounding the A320 NEO's cockpit remain undisclosed. It is unclear whether ToLiss will introduce a completely new cockpit design or utilize elements from their existing A321 and A319 models. Additionally, the availability of both CFM Leap and PW1000G engine options in ToLiss' NEO is yet to be confirmed.
Although an exact release date has not been announced, it is anticipated that the A320 NEO will be available sometime in March of this year, eagerly awaited by aviation enthusiasts and virtual pilots alike.