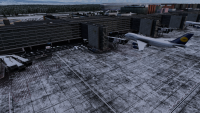 Aviotek Simulation Software has released their highly anticipated rendition of Frankfurt International Airport (EDDF) for both X-Plane 11 and X-Plane 12. As the busiest airport in Germany and the fourth busiest in Europe, Frankfurt Airport handles an impressive average of 69 million passengers annually. It boasts an extensive route network, offering over 300 destinations across five continents, making it the airport with the most direct routes in the world.
Frankfurt Airport serves as the main hub for Lufthansa, Germany's national carrier, which operates a comprehensive route network both within Europe and on transcontinental flights. Additionally, Lufthansa CityLine, the regional subsidiary of Lufthansa, also operates from FRA with its fleet of regional aircraft. The airport also serves as a focus city for several low-cost carriers, including Eurowings, Eurowings Discover, Condor, and TUI fly Deutschland, offering many seasonal routes to popular destinations in Spain, Greece, and Portugal.
The Aviotek Simulation Software rendition of Frankfurt Airport features a high-quality depiction of the airport, including detailed apron and terminal buildings. The layout is updated to reflect the current airport configuration, and the scenery includes custom animated jetways (compatible with the SAM plugin), accurate taxiway and runway signage, over 15 square kilometers of hand-placed high-resolution orthoimagery, custom animated airport vehicles and highway traffic, more than 150,000 hand-placed custom objects, realistic terrain and runway profiles created with specialized software, realistic high dynamic range night lighting, a wide variety of ground service equipment and custom airport vehicles, and accurately positioned static aircraft.
The scenery can be purchased from Orbx Direct for approximately $27.33 and requires approximately 11.22 GB of free disk space for installation. However, the developer advises potential users about potential issues with X-Plane 12, as the platform is still under active development and things may not work as expected. Customer support will only be provided for X-Plane 11 until the compatibility with X-Plane 12 is fully established.