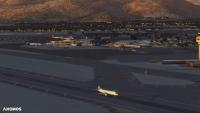 Axonos has recently released their rendition of Palm Springs International Airport (KPSP) for X-Plane, providing X-Plane users with the opportunity to explore this popular tourist destination. Palm Springs International Airport sees an average of 2.5 million passengers annually and is located in the renowned Coachella Valley. It offers a visually stunning and challenging arrival, as there is no Instrument Landing System (ILS) to assist in cases of poor visibility. The airport serves as an important transit hub, offering multiple route options and serving numerous airlines.
The scenery package for KPSP includes various features to enhance the visual experience. These include Physically Based Rendering (PBR) materials, high-resolution textures, custom ground clutter and weathering, performance optimization for smooth performance, enhanced orthophoto imagery, hand-placed vegetation, and full compatibility with both X-Plane 11 and X-Plane 12.
To obtain the KPSP scenery, interested users can purchase it from Axonos' Gumroad Store for $19.95. The installation requires a minimum of 3.69 GB of free disk space.