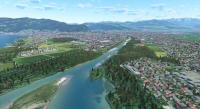 SimHeaven has recently launched their highly regarded X-World America scenery for X-Plane 12. This comprehensive package, available for download, occupies a size of 7.4 GB and expands to 13.8 GB when extracted. The announcement was made through a post on their website, where they highlighted the following:
The X-World series, which includes popular sceneries like X-Europe, X-America, and more, continues its success in X-Plane 12. Unlike traditional autogen rules, SimHeaven adopts a different approach by utilizing OSM (OpenStreetMap) data along with Microsoft building footprints to accurately place objects in the scenery. This meticulous method results in a more realistic and immersive look and feel, enhancing the overall visual experience for users.
SimHeaven's X-World America scenery offers a vast coverage of the American continent, enriching the virtual flying experience with detailed and accurate representations of various locations. By incorporating real-world data, the scenery provides a heightened level of authenticity, capturing the essence of the American landscape.