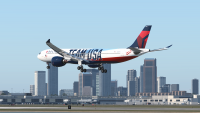 X-Works has recently released their A330-900neo modification for the Laminar Research A330-300 in X-Plane 12. This mod brings the newest variant of the A330 to the simulator, and the development team has worked diligently to bring this modification to users.
During the development process, X-Works has provided sneak peeks and modeling updates to showcase the progress of the A330-900neo. However, it's important to note that X-Works has issued a warning regarding the latest X-Plane 12 beta update. They advise users on Windows not to update to beta 7 as it breaks the A330-300 and, consequently, their mod as well. Users interested in using the modification should wait for a fix to be released by Laminar Research.
The X-Works A330-900neo mod offers various features and enhancements, including fully remade wings, engines, and fairings, custom wing flex, custom reverse, custom flaps/slats, custom speedbrake, and custom gear door animations.
To obtain this modification, you can visit X-Plane.to to download it for free. The installation process involves duplicating the default Laminar Research A330 folder and replacing the files with the new ones when prompted.
If you're looking to download liveries for this aircraft, X-Works provides a selection of liveries on their Discord server.