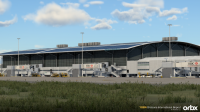 Orbx has recently released their first product for X-Plane 12, featuring a rendition of Brisbane International Airport (YBBN). As the primary international airport in Queensland, Australia, it serves approximately 20 million passengers annually. The airport is a hub for various airlines, including Alliance Airlines, Jetstar, Qantas, Toll Aviation, and Virgin Australia, offering a wide range of domestic and international destinations.
Developed by their in-house experts using the latest techniques, the scenery offers a highly detailed representation of Brisbane International Airport. It includes features such as PBR texturing for enhanced visual quality, custom SAM jetways (including T-Style), and VDGS integration. The scenery also incorporates the newly opened runway 01L/19R, which debuted in mid-2020.
The key features of the scenery include over 60 square kilometers of coverage, handcrafted custom mesh, 15cm orthophoto coverage, high-quality PBR textures, accurate custom ground polygons, an up-to-date airport layout for 2022, hand-placed buildings, lights, and autogen, animated vehicle traffic, animated radar systems, and custom dynamic night lighting.
The product is available for purchase on OrbxDirect for $18.41 and requires a minimum of 2.11 GB of free disk space for installation.