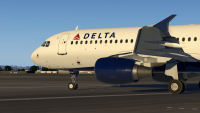 FlightFactor has recently released a new update for their popular A320 aircraft in X-Plane. This update brings a range of bug fixes, quality of life improvements, and miscellaneous features to enhance the overall user experience.
Originally released for X-Plane 10 in February 2018, the FlightFactor A320 was later made compatible with X-Plane 11. However, there was a period of no development for the A320 in X-Plane 11, resulting in some users experiencing performance issues. In response to this, FlightFactor released a major update in late 2021 to address these issues. With the release of X-Plane 12, FlightFactor has continued to work on updates for the A320, aiming to enhance the user experience within the simulator.
The newly released version marks another significant step in the development of the Airbus A320 and is currently in an open beta phase for X-Plane 12. The update includes improvements to the flight deck, such as updated FCU controls, fonts for signs, cockpit texture enhancements, and lighting adjustments. Various fixes have also been implemented, addressing issues with messages, cockpit signs, pitch-trim wheel legends, MCDU screen, and window animations.
The update is free for existing owners of the A320 and can be downloaded either through the X-Updater or the X-Plane.org Store. If you are interested in purchasing the A320, it is available for sale on the X-Plane.org Store.