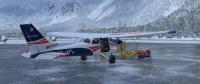 AirfoilLabs has recently updated their C172NG aircraft for X-Plane 12, taking advantage of the new features introduced in the platform, including rain effects. The C172NG offers an accurate flight model, built with real-life flight data and recordings in mind, ensuring that the aircraft behaves realistically in terms of crosswind, air pressures, and stalls. The 3D model has been completely rebuilt for enhanced visual fidelity.
The Cessna 172 is a renowned aircraft in aviation and is often used for training purposes. With its 2400rpm, 175hp piston engine, the C172NG can reach a speed of 125 knots and a maximum altitude of 13,000 feet. Equipped with Garmin G1000 avionics, an advanced maintenance and failures system, and even the ability to encounter a birdstrike, the AFL Cessna 172NG offers a comprehensive set of features.
The update for X-Plane 12 brings several improvements and additions, including a reworked internal 3D model and textures, a brand new flight model specifically designed for X-Plane 12, enhancements to internal and external cameras, VR compatibility, Garmin displays commands for cockpit builders, X-Plane 12 rain effects, and more.
The aircraft features exquisite PBR texturing, a detailed 3D model based on a real aircraft, FMOD sound with over 320 sounds, a flight model based on real aircraft recordings and performance tables, custom damage simulation, and realistic systems including fuel, landing gear, electrical, and engine logic.
The AirfoilLabs Cessna 172 NG is available for purchase on the X-Plane Store for $49.95.