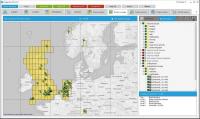 The highly popular third-party addon, xOrganizer, has now been officially released for X-Plane 12 and is readily available through the X-Plane.Org Store.
xOrganizer is a software tool designed to provide accessibility and peace of mind to X-Plane users by assisting them in organizing their files. While structuring X-Plane files can be straightforward, it can present challenges for new users on their simulation journey. xOrganizer helps users overcome this roadblock by offering assistance in organizing various aspects, including the scenerypackages.ini file and ensuring that all aircraft are up to date.
Beyond maintaining the proper order of scenery files, xOrganizer also features a scenery map that showcases the installed scenery packages and the package currently being utilized by X-Plane. Presented through a user-friendly interface, xOrganizer provides an overview of plugins, aircraft, and scenery, granting users the option to choose whether or not they require the assistance of the software. Furthermore, the tool offers customization options, enabling users to tailor their experience for added convenience and accessibility. A comprehensive feature list can be found on their store page.
For those interested in upgrading or purchasing xOrganizer, the product is available on the X-Plane.Org Store. Existing v2 customers can check their account page for a discount code that can be applied during checkout, providing an incentive for their continued support and upgrade to the latest version.