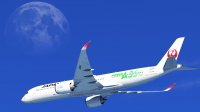 FlightFactor has rolled out a beta update (v1.7.01) for their popular A350 add-on. This latest update focuses on refining the X-Plane 12 version, bringing various improvements to enhance the overall user experience and ensure compatibility with the latest iteration of the flight simulator.
One of the key enhancements in this update is the fine-tuning of the pitch behavior specifically for X-Plane 12. By aligning the flight dynamics of the A350 with the improved capabilities and performance of X-Plane 12, FlightFactor aims to deliver a more realistic and immersive flying experience to virtual pilots.
The update also addresses compatibility issues, particularly related to lights and reflections, to ensure optimal visual fidelity within the simulator. FlightFactor has also resolved a previously identified problem with the beacon light. Furthermore, visual issues associated with certain knobs have been rectified, further enhancing the overall realism and visual appeal of the aircraft.
The FlightFactor A350 XWB Advanced remains a highly regarded add-on, known for its meticulous attention to detail and advanced systems simulation. The virtual cockpit boasts high-resolution graphics, while the inclusion of ground equipment and realistic implementation of Standard Instrument Departures (SIDs) and Standard Terminal Arrival Routes (STARS) contribute to an authentic Airbus A350 experience.
Pilots can expect a comprehensive systems simulation, including custom failures, an Airbus electronic checklist system, and a fully customized ECAM monitoring system. The A350's fly-by-wire technology has been faithfully replicated, allowing for a realistic implementation of the normal laws. While a few non-precision approach modes are currently excluded, FlightFactor has ensured the inclusion of all Airbus autopilot modes, enabling pilots to fully utilize the aircraft's capabilities.
Additional features of the FlightFactor A350 include a custom 3D stereo engine sound system, delivering a heightened audio experience, and an interactive flight attendant helper, adding an extra layer of authenticity to virtual flights. The add-on comes with seven meticulously designed liveries, providing users with options to personalize their aircraft.
To access the latest update and enjoy the improved features of the FlightFactor A350 XWB Advanced, users can visit the official X-Plane.Org Store.