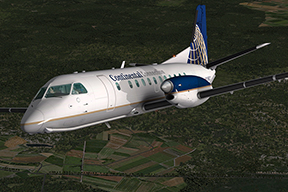 Leading Edge Simulations and X-Aviation are happy to announce the release of the long awaited Saab 340A for X-Plane 10!
This aircraft features a study level simulation based on the real aircraft, custom programmed from the ground up! You can grab yours today at the Saab 340A product page on X-Aviation!
The Saab 340A is entirely simulated based on the real world manuals. All of the systems are entirely custom programmed, including the autopilot, CRT displays (EHSI and EADI), powerplant, hydraulics and more! Our entire simulation has been certified as true-to-life by a test group of five real world Saab 340 pilots. They were amazed at our accurate simulation, and you will be too!