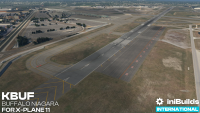 iniBuilds has recently launched its Buffalo Niagara scenery. This stunning addition brings to life the vibrant atmosphere of Buffalo, New York's major airport, serving not only the local area but also the southern golden horseshoe region of Ontario, Canada. Remarkably, KBUF ranks as the third busiest airport in New York State.
Recognized as a significant hub, Buffalo Niagara International Airport (KBUF) plays a vital role for several major airlines. It serves as a central point for United Airlines, American Airlines, Delta, JetBlue, and various other carriers. Moreover, KBUF stands out as a substantial hub for FedEx Express and UPS, further emphasizing its significance within the aviation industry.
Hand-made ground polygons with crisp, bespoke texture sets
Hand-placed bespoke ground service equipment
True-to-life landside recreation 
High definition vegetation
The main terminal interior is fully modeled
See more on the iniBuilds store.