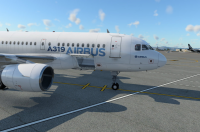 Toliss, a well-known developer in the X-Plane community, has released an update for their popular Airbus range, specifically the A319 and A321 variants, to make them compatible with X-Plane 12. This exciting update brings enhanced functionality and new features to the aircraft. For users who already own the A319 and A321 in X-Plane 11, the update is available at a discounted price of $10.99 each through the X-Plane.org store. Toliss has assured customers that the discount will be automatically applied to their accounts.
The A319 has received various notable additions with this update. These include XP12 adaptations, a custom engine model that provides more realistic thrust and fuel flow values, and introduces new engine failure modes. Additionally, a new engine type, CFM56-5B7, has been implemented to offer increased take-off thrust specifically for high-altitude airports, making it ideal for flying in regions like the Andes. Other improvements include accurate system response circuit breakers, ACARS functionality for direct downloading of Simbrief plans into the flight plan, and the ability to retrieve takeoff data and wind information from the Simbrief flight plan.
Similarly, the A321 has also undergone significant updates and incorporates numerous new features. These include XP12 adaptations, a custom engine model for improved realism in terms of thrust and fuel flow, and new engine failure modes. The circuit breakers now feature accurate system response, with over 100 circuit breakers available. ACARS functionality allows for direct downloading of Simbrief plans, retrieval of takeoff data for various runways at the departure airport, and entering wind data from the Simbrief flight plan. The A321 update also introduces an interactive screen called ACP, which enables ground service requests, fuel and passenger changes without using the ISCS. Other additions include EFB (Electronic Flight Bag) on both the captain and co-pilot sides, an FMGS (Flight Management and Guidance System) plan editing overhaul, the availability of database holds, an offset function, new failure modes (including recoverable computer failures), more than 70 new ECAM (Electronic Centralized Aircraft Monitor) messages, animated push buttons in the cockpit, and movable pilot seats and armrests.
With these updates and new features, Toliss has demonstrated their dedication to providing an enhanced and immersive experience for users of their Airbus aircraft in X-Plane 12. These additions further elevate the realism and functionality of the A319 and A321, making them even more appealing choices for flight simulation enthusiasts.