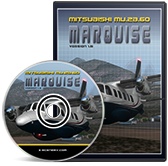 X-Aviation and X-Scenery are proud to announce the release of the 64-bit, version 1.5 Mitsubishi MU-2B-60!
This long awaited update includes many features, including an all-new cockpit design, a new plug-in for the systems simulation, and much more!
See screenshots of the new Mitsubishi MU-2B-60 on the product page at X-Aviation!
General changes:
New, friendlier activation system

X-Plane 10 compatible only

64-bit compatible only

On the surface changes:
Higher resolution textures on the cockpit panel

New 3D clock

New artificial horizon with working flight director bars

High resolution altimeter with rolling digits and easier to read numbers

New altitude selector with rolling digits

Yoke is hideable by clicking on the base of the yoke

Fuel transfer system/control panel is fully functional

Com1/Com2 selector knob functional for VATSIM users

New high resolution radio frequencies easier to read

Nav1/Nav2/ADF audio switches enable audible nave aid tones

New ADF with 3-stack knob for tuning

New Garmin GTX330 transponder simulation

Co-Pilot HSI coupled to Nav 2

New Co-pilot attitude indicator

Stall warning and test mode operative (yoke will vibrate)

Overhead panel functional, anti-ice and lighting rheostats work.

New custom sounds for FSB and NS "ding" and stall shaker

All autopilot modes operative, roll and pitch knobs operative.

Small "quality of immersion" animations for some needles and nav flags

Under the hood changes:
Electrical system refined so that equipment only operates when it is correctly powered.

New master caution system