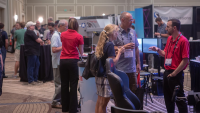 Flight Sim Association has announced the dates and location of FlightSimExpo 2023! The event is one of the world's largest dedicated flight simulation conferences. Since 2018, over 3,500 attendees have attended Las Vegas, Orlando, and San Diego events. Similar to 2021, the event will be held in a hybrid online and in-person setting. 
We are happy to announce that the venue and location for FSExpo 2023 is the Lone Star Flight Museum at Ellington Airport (EFD) in Houston, Texas! According to FSA, "the 130,000 square foot museum and learning center has ample space for more than 2,000 attendees across two air-conditioned hangars." Other facilities surrounding the area are the Texas Aviation Hall of Fame and learning exhibits that include Redbird flight training devices. FSExpo 2023 will be held from June 23rd to June 25th, with the 23rd being an "add-on series of group discussions" before the in-person conference on June 24th and 25th. 
Ellington Airport is approximately 15 minutes drive away from Hobby Airport (HOU) and 35 minutes from Intercontinental (IAH). FSA's Evan Reiter writes that the venue is working with hotels, airlines, and rental car companies to secure discounted rates for attendees. They're also anticipating that attendees will be able to "add-on" experiences at NASA, ATC facilities, and more. 
Registration for the event will begin in December. More information regarding hotels, attractions, and travel will be available later this year. Hopeful attendees of FSExpo can monitor their website to keep up to date with all new information regarding the upcoming event!