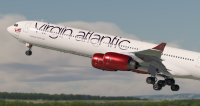 Toliss has released version 1.2 of their highly anticipated A340-600 for X-Plane. This update brings several new features and improvements to enhance the user's flight experience. One notable addition is the completion of the Electronic Flight Bag (EFB), which now allows users to communicate with Air Traffic Controllers via the Hoppie Network. The EFB also provides accurate performance data for takeoff and landing calculations.
The interactive checklist on the EFB can be customized by modifying the XML files to suit individual preferences. Additionally, users can obtain METAR weather reports for any user-selectable airport directly through the EFB. Toliss has also focused on improving compatibility for Mac users, with native support added for Mac devices using the M1 chip, resulting in better performance when using the aircraft.
If you're interested in flying the Toliss A340 for X-Plane, you can purchase it from the X-Plane.org Store. Currently, the product is on sale for $67.49, which is a 25% discount from the regular price of $89.99. Keep in mind that the sale is for a limited time, and once it ends, the price will return to $89.99.