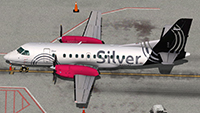 X-Aviation and Leading Edge Simulations have posted new previews of the upcoming Saab 340A! Along with the new previews, an announcement was made that Leen de Jager would be assisting in the development of liveries for this project.
You can see the latest previews here!
Be sure to also check out all prior previews here, here, here, here, here, here, here, and here!