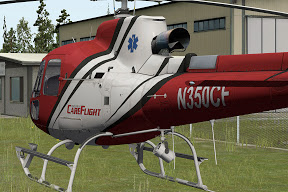 DreamFoil Creations has released their Eurocopter AS350 B3 Plus helicopter.
Along with a highly detailed 3D model, the aircraft has many features and accurately represented flight model for X-Plane. You may purchase it at the X-Plane.org Store for $34.95 USD.
Features
High quality 3D model for exterior and interior




3D Panel and fully clickable switches/buttons




Rotor animations (Starflex / Articulations / Links / Flapping / Coning / Cone drop / Wind)




Turbine simulation (Realistic Arriel 2B1 simulation)




Accurate Torque, Ng, T4 and NR/Nf values




Realistic startup and shutdown procedures (can follow real aircraft checklist)




Controls Friction and Lock - Trim System




VEMD (Vehicle and Engine Management Display) fully simulated




EBCAU (Engine Back-up Control Ancillary Unit) Plugin driven and fully simulated




FADEC (Full Authority Digital Engine Control) Plugin driven and fully simulated




CWP (Caution and Warning Panel)




GTX 327 (Transponder) fully simulated




Bendix KR87 (ADF) fully simulated




Realistic Autorotations




Hydraulics and Accumulator simulation




Light circuit simulation




Internal lighting




Rotor brake with controllable intensity




Customizable variants (Police, Medical, Hoist, Transport)




Realtime spot light simulation for Search Light (HDR required)




Venting system simulation (include audio)




Working dynamometer for sling load operations




Removable Doors




Exhaust Heat Blur (HDR required)




FLIR camera




Realistic exterior lighting



SmartLivery
A new way to change your liveries, preview feature allow you to pick the one you really want to, no more guessing with names.
SmartMenu
Easy access menu, allow quick change of views, Ground Power Unit or SmartLivery.
DreamEngine sounds
Over 70 custom sounds for realistic simulation - Realistic startup sound with dynamic sounds




Doors simulation (Increased noise / Frequencies attenuation / Wind), Switches and buttons sounds, Blade slap sound, Low and High rpm horn




HeadPhone Simulation



Arcade Mode
Exclusive mode allow beginners to get help while training, this feature will auto correct flight attitude, just center your joystick while flying in this mode and helicopter will automatically fly stabilized. It is not limited to beginners, can be also used in other situations like:
In forward flight as help to keep flying while you change any instrument like radio frequency or GPS.




During hover as PANIC button, to recover from bad situations induced by pilot.




For people who don't really want to worry so much about flying, just like an arcade mode from videogames, it allow you to takeoff without big corrections from cyclic, and forward speed is achieved by only moving cyclic forward.