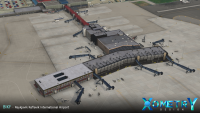 Xometry has announced their latest airport scenery, Keflavík International Airport. This is known as the main hub for Iceland commercial service. The listed features are:
 2022 layout
High-quality PBR textures on buildings
4K PBR ground textures ensure realistic asphalt and concrete colors across the airport
High-quality color corrected Ortho imagery
Custom SAM Jetways
3D interior in the main terminal
Custom PBR ground clutter (edited)
We'll keep you updated as more info comes out.