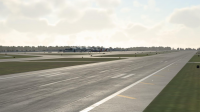 TearWearDesigns has released their rendition of Buffalo Niagara International Airport (KBUF) for X-Plane 12, and it is available as a free download. Serving the city of Buffalo, New York, as well as parts of Ontario, Canada, KBUF is the third busiest airport in the state, handling approximately 5 million passengers annually. With over 100 flights per day, it is served by major airlines such as American, Delta, Frontier, JetBlue, Southwest, and United.
The scenery from TearWearDesigns includes various features to enhance the airport's realism. These features encompass three-dimensional grass, custom markings, weathered and worn textures around the airport, hand-placed night lighting, accurately modeled parking lots, high-resolution orthoimagery (ZL19), and customized terminal buildings, control tower, and hangars.
If you're interested in exploring Buffalo Niagara International Airport in X-Plane 12, you can download the scenery for free from the X-Plane.Org website.