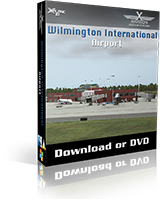 X-Aviation and Drawbridge Designs are pleased to announce the release of Wilmington International Airport!
Utilizing all-new shader technology, combined with accurately placed orthophotos, trees, light poles, powerlines, and ultra realistic looking 3D airport buildings, Wilmington International Airport is the start of a new wave of products that will blow you away! The attention to detail is incredible, and the experience within X-Plane has never been better.
No matter if your X-Plane adventures have you be a general aviation flyer, a regional jet pilot, or a heavy airliner captain, Wilmington International Airport is for you! And, if you like to simulate realism you can take that awesome CRJ-200, ERJ series aircraft, Dash 8, Airbus A320, Douglas DC-9, or your MD-80 series aircraft to or from places where Wilmington has commercial air service, like Delta Air Lines and Delta Connection to New York and Atlanta, US Airways Express to Philadelphia and Washington D.C., American Eagle to Chicago O'Hare, US Airways and US Airways Express to Charlotte, and Allegiant Air to Orlando/Sanford International Airports.
More information as well as a detailed set of screenshots are provided on the product page at X-Aviation.com.