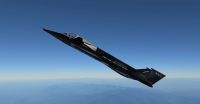 VSKYLABS has released the all-new rendition of the F-19 Stealth Fighter for X-Plane 12, adding to the growing collection of military aircraft available in the next-generation simulator.
In their efforts to recreate the 80s-era aircraft, VSKYLABS has gone beyond just replicating the exterior model and has also developed the systems and interior of the F-19 Stealth Fighter.
The extensive feature list provided by the developers includes the replication of the aircraft's flight model using X-Plane 12's upgraded flight dynamics. Additionally, FMOD sounds have been incorporated, ensuring an immersive audio experience. The aircraft has been designed to be compatible with virtual reality (VR) and optimized for both VR and 2D usage.
For more details and the complete feature list, you can visit the product page of the F-19 Stealth Fighter.