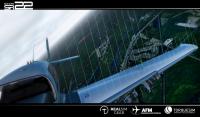 In the latest SR22 development update, Coop takes us through explanations about the aerodynamics on this aircraft.
TorqueSim states, "Aerodynamics is one of many reasons why we all love X-Plane. That's also why, just like with the engine, aerodynamics on the TorqueSim SR22 have been designed to take full advantage of the simulator's capabilities and get as close as possible to the real world equivalent. Therefore a professional flight model of the SR22 was created by X-Aerodynamics in 2018 – over many months of work using all available resources and documents. It is up to the most recent standards and greatly benefits of the flight model improvements introduced with version 11.41 of the simulator and is ready for 11.50."
You can read more about the latest update in the SR22 forums here.