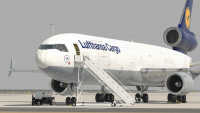 Rotate has released a new update for their recently-released McDonnell Douglas MD-11. The update pertains to a few significant issues that users were experiencing after the product's initial release, mainly relating to LNAV and ILS bugs. They've also provided a list of issues the team plans on addressing shortly to complement this update.
The changelist is as follows:
Loss of speed during cruise, thrust has been adjusted to represent max weights and altitudes.
LNAV flight path abandonment and erroneous waypoint/segment sequencing (some aspects of this issue are still being worked on).
LNAV winding flight path and roll PID mistuning (some aspects of this issue are still being worked on).
HDG guidance error when heading change crosses 360 degrees.
Brakes and tiller not operating with hardware controllers (see chapter r12 in the Rotate MD11 Introduction and Product information.pdf)
ILS CDI froze in ND.
ILS courses are shown as true instead of magnetic on the NAV RAD page.
Fixed Artificial Horizon issues.
You can find the MD-11 product page at X-Plane.org.