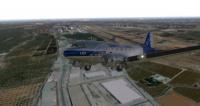 Leading Edge Simulations has officially announced the Douglas DC-3 v2 update is in the works.
This update will be a realistic representation of the existing v1 DC-3 many customers have come to love.
The entire 3D model and textures have been re-vamped, FMOD is being introduced, a much deeper systems simulation, all-new UI, and more is coming. To see all the details be sure to see the topic here at X-Pilot!