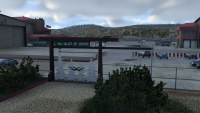 Eagle County Regional Airport (KEGE) has received a makeover with the latest update from Xometry Design. This update brings compatibility with X-Plane 12, unlocking a whole new level of visual realism and immersion for flight enthusiasts.
Nestled in the heart of Colorado, Eagle County Regional Airport shines as the second busiest airport in the state during the thrilling ski season. Its strategic location, in close proximity to world-renowned skiing resorts, makes it a favored gateway for winter sports enthusiasts. Notably, EGE boasts better landing conditions compared to Aspen, offering pilots improved accessibility and lower minimums.
While scheduled passenger services fluctuate with the seasons, private flights continue to soar. Eagle County Regional Airport is proud to host the esteemed Vail Valley Jet Center, one of the premier fixed-base private operators in the United States. With its state-of-the-art facilities, including eight heated hangars and over 30 acres of overnight storage, the Vail Valley Jet Center provides top-notch service and planeside vehicle staging.
The recent update from Xometry Design takes the EGE experience to new heights. With full compatibility for X-Plane 12, users can now enjoy the next-generation visuals and enhanced performance offered by the latest iteration of the popular flight simulator. The developers have painstakingly crafted a realistic terminal interior, ensuring an immersive experience for pilots and virtual travelers alike.
Furthermore, Xometry Design has gone above and beyond with a comprehensive object rework, resulting in a more detailed and lifelike rendition of Eagle County Regional Airport. Custom jetways have been implemented, further adding to the authenticity of the airport environment. To take advantage of X-Plane 12's impressive rendering capabilities, a customized mesh with an Ortho4Xp patch has been integrated, showcasing the stunning 3D trees and bushes that breathe life into the scenery.
Aviation enthusiasts and virtual pilots can now immerse themselves in the enriched atmosphere of Eagle County Regional Airport (KEGE) with Xometry Design's latest update. To experience this enhanced rendition firsthand, visit the official iniBuilds Store today.