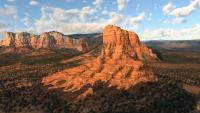 X-Codr has updated their Sedona Airport (KSEZ) scenery, ensuring compatibility with X-Plane 12 and introducing several new features to enhance the airport and its surroundings. The update includes improved textures, animated 3D grass and people, as well as hand-sculpted 3D rock formations in the surrounding valley.
The revamp also incorporates detailed 3D interiors for most "feature buildings," providing a realistic and immersive experience. The scenery utilizes X-Plane 12's photometric PBR rendering engine, resulting in high-quality normal maps and realistic ground textures. Additionally, the airport features subtle grunge overlays, adding a natural and lifelike feel to the environment.
The Sedona Airport scenery offers a living airport experience, with randomly wandering cars that occasionally drive up to the gate and park on the apron. It also includes animated 3D people, trees, grass, and shrubs, utilizing X-Plane 12's new forest system.
The surroundings of Sedona Airport are enhanced with generic, regionally appropriate autogen for the surrounding valley, handcrafted rock formations, and low-poly landmarks. The scenery incorporates custom Ortho4XP Mesh and UHD Mesh V4 overlays.
X-Codr has optimized the scenery for excellent performance, ensuring VR readiness and achieving a constant 60 fps on high-end systems with near-max settings.
The updated Sedona Airport (KSEZ) scenery is available for purchase on the X-Plane.Org Store for $21.95. Existing owners of the X-Plane 11 version are eligible for a free update. The scenery requires at least 3GB of free disk space for installation.