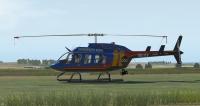 CowanSim has released the Bell 206L3. Purchasers will get a free update to X-Plane 12 according to the product page.
The feature list for their 206L3 is as follows:
Tested by real pilots
Hardware throttle config
Working floats configuration
Low and High Ski Versions
Head Force and Shake
Dynamic Weight Options
Functional spotlight and spray kit
Functional Cineflex Camera
2k and 4k textures
FMOD
Rain Effects
Vulkan compatibility
AviTab, and RXP GTN750 integration
Detailed night lighting
Head on over to the product page to see more screenshots or to purchase.