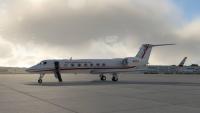 AKD Studios has released their highly anticipated GLF550 business jet for both X-Plane 11 and X-Plane 12. After two and a half years of development, the add-on is now available for users to enjoy. The GLF550, introduced in 2004, is primarily used by the USAF, US Navy, Israeli Air Force, and Netjets. It is a preferred private aircraft for many governments and armies worldwide, offering a capacity for 14-19 passengers and an impressive range of 12,500 km.
The GLF550 add-on from AKD Studios offers a range of custom systems, including pressurization, oxygen, air conditioning, hydraulics, fuel, APU, and an auto flight suite. It also includes an Electronic Flight Bag (EFB) with various functionalities such as ground service controls, performance calculator, refueling and load manager, avitab integration, checklists, and aircraft options. The cockpit is highly detailed, featuring three-dimensional switches and 4K PBR textures throughout.
You can purchase the GLF550 on the X-Plane.Org Store for $31.95. The add-on requires at least 1 GB of free disk space for installation.