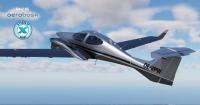 Aerobask is celebrating their ten-year anniversary with the release of the DA42 NG for X-Plane 12. This milestone release comes a decade after their very first payware aircraft, the DA42, introduced in 2013.
True to their reputation, Aerobask has equipped the DA42 NG with an array of custom systems that enhance the immersive experience. Notable features include synthetic vision technology, a simulated oxygen system, fully functional breakers, and more. The complete feature list offers an extensive overview of the aircraft's capabilities.
The DA42 NG boasts an integrated Laminar Garmin G1000, complete with custom EIS (Engine Indication System) and annunciations. It also incorporates the expertise of OscarPilote to provide an advanced synthetic vision technology. The touch screen features and optional GCU476 2D keypad further contribute to the aircraft's user-friendly interface. Additionally, the meticulously simulated oxygen system and ice protection system add to the realism and depth of the aircraft's systems.
Aerobask's dedication to detail extends to the visual aspects as well. The DA42 NG features a superb 3D model, with a fully functional virtual cockpit designed for smooth operation and compatibility with virtual reality (VR) systems. The high-resolution PBR (Physically Based Rendering) textures enhance the visual fidelity, while effects like windshield reflections, rain, and frost contribute to the immersive experience. The flight model, meticulously crafted by X-Aerodynamics, provides accurate and realistic flight characteristics, including smooth wingflex.
To further enhance the audio experience, the DA42 NG incorporates a full FMOD environment created by Daniela Rodriguez Careri. This includes accurate doppler, distance attenuation, and flyby effects, as well as a simulated headset. The in-game volume control allows for seamless adjustments without pausing the simulation.
Additional features include comprehensive documentation, an Avitab tablet with an integrated options panel, a detachable and VR-friendly 2D options panel, six included liveries, and a 2K textures pack for lower-spec computers. The convenient auto-updater, Skunkcraft, ensures that the aircraft remains up to date.
For those interested in adding the Aerobask rendition of the Diamond DA42 NG to their collection, it is now available for purchase on the X-Plane.org Store for $39.95.