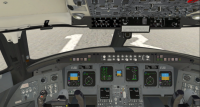 ADSimulations, known for their CRJ-700, has published their CRJ-900. The CRJ-900 is an extended variant of the CRJ series. The aircraft features "basic systems" but will contain "deeper systems" in subsequent updates. 
The feature list includes:
Realistic Mode Control Panel
Crisp Displays 
Accurate PFD
MFD is fully functional, with all of its modes containing decent functionality
Tablet/EFB
Skunkcraft Updater
Configurable cabin and cockpit lighting environment
FMOD sounds
Realistic flight model
High-resolution textures
A plethora of liveries including American, Delta, Scandinavian and more.
VR compatibility.
and more!
If you're interested in purchasing the ADSimulations CRJ-900, you can do so on the X-Plane.org store for $49.95. 
CRJ-700 customers can get the CRJ-900 for 30% off. Please find the discount coupon in the original CRJ-700 invoice at the store.