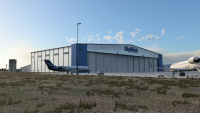 Xometry Design has released their highly detailed rendition of Oklahoma City Will Rogers Airport (KOKC) for both X-Plane 11 and X-Plane 12. Also known as Will Rogers World Airport, it serves as a civil-military airport and handles an average of 3.5 million passengers annually. The airport is named after Will Rogers, a local comedian who tragically passed away in 1935.
KOKC is well-connected, with several major airlines serving the airport. These include Alaska, Allegiant, American Airlines (including American Eagle), Delta Airlines (including Delta Connection), Frontier, Southwest, and United Airlines (including United Express). Additionally, the airport accommodates cargo operations by FedEx, Martinaire, and UPS.
Xometry Design's scenery package offers a highly detailed representation of Oklahoma City Will Rogers Airport. It features high-resolution ground textures, custom SAM jetways and marshaller animations, disassembled aircraft parts scattered around the airport, realistic wear and tear on surfaces, and accurately placed custom buildings and clutter.
If you're interested in experiencing the realism of Oklahoma City Will Rogers Airport in X-Plane, you can purchase the scenery from the iniBuilds Store. The price is approximately $21.72, and the package requires a minimum of 4.32 GB of free disk space. The scenery is compatible with X-Plane versions 11.50 or higher, as well as X-Plane 12.00 or higher.