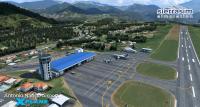 Sierrasim Simulation has recently released their rendition of Antonio Nariño Airport (SKPS) for X-Plane 11 and X-Plane 12. Located in Chachagüí, Colombia, and serving the city of Pasto, this airport is commonly known as Pasto Airport. It is situated on a plateau, featuring a tabletop runway with an elevation of 5,951 feet and a runway length of only 2,312 meters. The airport is notorious for having one of the trickiest approaches in Colombia, often affected by crosswinds that can render takeoffs and arrivals impossible and unsafe, particularly in August.
The airport is frequented by airlines such as Avianca, Latam Colombia, EasyFly, and Viva Air Colombia. Avianca and Latam Colombia operate routes to Bogotá and Cali, while EasyFly offers flights to Cali, and Viva Air Colombia serves Cartagena and Medellín. The airport handles approximately 330,000 passengers annually, based on figures from 2019.
Sierrasim Simulation's rendition of Antonio Nariño Airport features high-quality textures and models based on aerial imagery, photo-realistic Physically Based Rendering (PBR) textures for buildings and vehicles, orthophoto scenery, a sloped runway, and performance-focused optimization, among other features. It provides an immersive and realistic experience for X-Plane users interested in flying to and from this challenging airport.
You can obtain it for $11.39 from SimMarket.