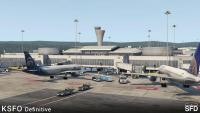 Renowned developer ShortFinal Design, also known as MisterX6, has recently unveiled the highly anticipated KSFO Definitive Project for X-Plane 11. With numerous updates and impressive techniques employed by the developer, this visual representation of San Francisco International Airport is garnering widespread attention.
The KSFO Definitive Project boasts an extensive range of features. Notably, the implementation of SAM (Scenery Animation Manager) enhances the realism and liveliness of the airport by incorporating jetways and dynamic airport operations. The scenery accurately reflects the current layout of KSFO as of 2022. Additionally, the package includes captivating animations of airport vehicles, workers, and passengers. Throughout the scenery, PBR (Physically Based Rendering) textures contribute to a visually immersive experience. For a comprehensive list of features, interested users can refer to the X-Plane.Org Store.
Available for purchase on the .Org Store, the KSFO Definitive Project is priced at $26.95. Those intrigued by ShortFinal Design's other offerings can explore the developer's payware catalog on the .Org Store. For freeware options, the forum page dedicated to the developer provides a comprehensive overview.
With the release of the KSFO Definitive Project, ShortFinal Design continues to solidify their reputation as a skilled and innovative contributor to the X-Plane 11 community. Aviation enthusiasts seeking a remarkable and true-to-life simulation experience are invited to explore this latest addition to their catalog.