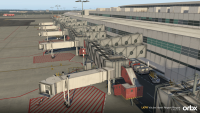 To complete the collection covering all 3 main simulators, orbx has released Prague for X-Plane. The capital city of the Czech Republic offers over 120 routes across Europe and beyond with 50 different airlines. Tourist can enter and visit one of Europe's largest cities to seek famous architecture as well as historical museums.
The airport comes with a handful of features, including 21 Points of interest around the airport region. These add subtle features to the airport, adding an amazing approach and departure. Furthermore, the airport comes with a custom ground poly allowing variations in the runway and slopes and rises on taxiways. 
Orbx Prague can be purchased from orbx direct for $27.83 AUD Excl Vat.