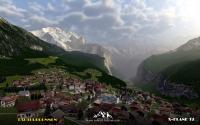 Frank Dainese and Fabio Bellini have recently released the ALPS UHD package for X-Plane 12. This package covers a vast alpine area spanning 8000 square kilometers, situated between Italy, France, and Switzerland. It includes four main packages: Eiger Park, Matterhorn Park, Aosta, and Mont Blanc, along with the prominent peaks of the Alps.
Each package within the ALPS UHD collection offers an accurate reconstruction of the area using 3D models and photographic textures. The major cities and towns are represented with custom building placement, including churches, stations, monuments, public buildings, and houses that match the local architectural style. Additionally, the package includes the main airports, airfields, and heliports found in the region, totaling 5 main airports, 15 airfields, and 46 heliports, each featuring their unique characteristics.
The ALPS UHD package is available for purchase on the X-Plane.Org Store. It is currently priced at $49.95, with a 17% discount from the regular price of $59.95. To install the package, a minimum of 3.3 GB of free disk space is required.