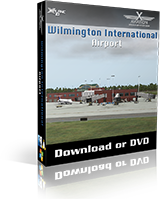 X-Aviation and Drawbridge Designs are pleased to announce a 35% Off super-sale for the Wilmington Int'l Airport scenery pack!
This sale keeps the celebration of this latest release rolling as X-Plane's most advanced scenery for X-Plane yet! Many reviews have come in with overwhelming joy and enthusiasm for this scenery, so if you haven't got in on this product yet be sure to do so before the countdown for the sale hits zero!
See more about Wilmington on the product page at X-Aviation.