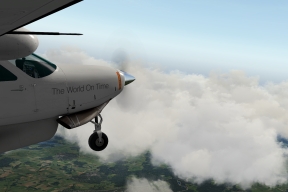 Sundog Software and X-Aviation have announced work on 'Real Weather Connector', a product to work with SkyMaxx Pro v3.
Real Weather Connector will enhance and alter the way weather is generated for X-Plane.
Real Weather Connector will be released as its own product, but it will require SkyMaxx Pro v3 to work, utilizing downloaded weather data and generate clouds in their actual locations.
To read more about the product, and follow Sundog's development, visit X-Pilot's forum thread.