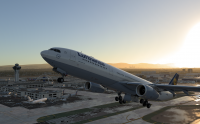 Exciting news has just hit the flight simulation community as X-Plane took to Twitter to announce the highly anticipated arrival of X-Plane 12. The next generation of this popular flight simulator is now officially available for purchase, and aviation enthusiasts can head to X-Plane.com to get their hands on it for $59.99.
Laminar Research, the developers behind X-Plane, has unveiled a range of impressive new features that come with this latest edition. These include a photometric, HDR lighting engine, a 4D weather engine, and the addition of seven new aircraft models such as the A330, Citation X, SR22, RV-10, PA-18, R-22, and Lancair Evolution. X-Plane 12 also introduces volumetric 3D clouds, seasonal and weather-specific visual effects like snow, variable vegetation, ice, and rain, as well as enhanced 3D forests, water, and vegetation.
The Early Access digital edition of X-Plane 12 caters to users who are eager to dive into the experience right away. As long as you have a reliable internet connection and a computer that meets the minimum requirements, you can take full advantage of this version. It offers universal platform support, including Windows, Mac with Native ARM Support, and Linux. Additionally, the Early Access edition provides access to both X-Plane 12 and X-Plane 11, along with free internet updates for all versions of X-Plane 12.
Aviation enthusiasts can now embark on a new level of flight simulation realism and enjoyment with X-Plane 12, thanks to its cutting-edge features and advancements. Whether you're a seasoned virtual pilot or a newcomer to the world of flight simulation, this latest release promises to offer an immersive and captivating experience for all.