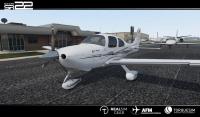 Coop, lead developer at TorqueSim, has shown a new update for the SR22 project they are working on.
In this update we discuss the RealSimGear Perspective Hardware integration, as well as a 3D and texture model preview. The update is also packed with more information about the engine model and electrical system.
You can see all of this in the SR22 Development thread located here on X-Pilot.