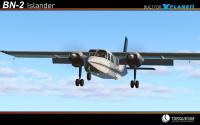 TorqueSim has announced late stage development of their Islander BN-2.
This aircraft will feature a high quality model, PBR textures throughout, a full custom electrical system with working circuit breakers, support for the AFM G5 avionics on launch, and of course the fantastic roar of its O-540s will be rendered in beautiful FMOD!
You can read more about the announcement and see more screenshots here.