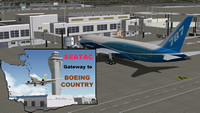 Scenery4XP has released Seattle-Tacoma International Airport as part of its Boeing Country series. This scenery comes with an accurate representation of SeaTac, as well as the other previously released products in the series for the price of $29.95.
Included airports are:
KSEA (SEATAC) (International airport and gateway to the west)
KBFI - BOEING FIELD (Main test facility for Boeing Aircraft)
KRNT - RENTON MUNI (Main assembly plant for Boeing 737)
KPWT - BREMERTON NATIONAL (General Aviation airport 25 miles west of Seattle)
You can purchase this scenery at the X-Plane.org store.
More information can also be found on the Scenery4XP website.