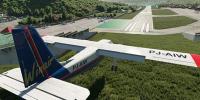 TorqueSim has released the BN-2 Islander on X-Aviation! You can pick up your copy today.
The BN-2 Islander is a light twin regional airliner and utility aircraft and is still widely flown today. Thanks to its rugged construction and excellent short-field performance, this aircraft can be found with operators all over the world. The model simulated is the BN-2B-26, equipped with 2 Lycoming O-540 engines.
Head on over to the store to purchase the BN-2 Islander!