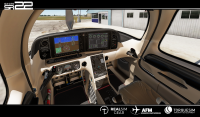 The Take Command!: SR22 Series by TorqueSim will be released on Saturday, July 25, 2020 at Noon EDT!
A full breakdown of the features in this product, as well as a previously recorded livestream is available here in the forums.
Be sure to check it out! This is one heck of a plane when it comes to systems fidelity and mechanical wear!